DIY Prestige retro fit solar energy street lighting products can be held in place via bespoke attachment to existing poles or columns.
They can be wall mounted when using one of our specially adapted building mounts. We can also provide column kits to match any ground mounted requirements as required.
Our knowledge of engineering design techniques has enabled us to provide a safe retro fit of our solar street lights to almost any position.
Retrofit solar powered lighting system for areas without mains powered electricity connection. This enables the area's to be illuminated without the need of trenching to install mains powered cables. It also eliminates the need to pay for electricity costs to the equipment. This creates a zero carbon footprint, reducing energy costs to zero.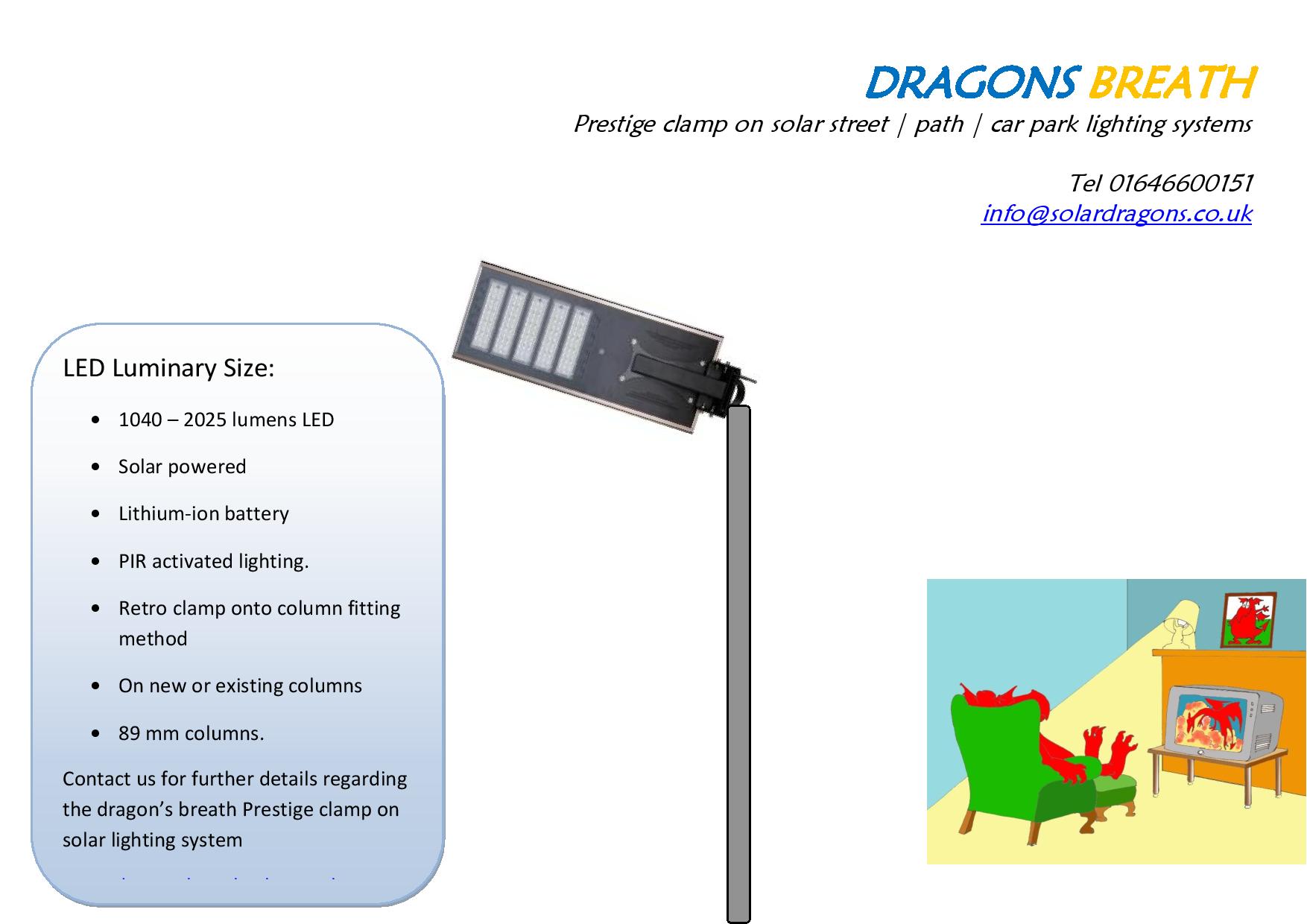 The LED lights are PIR sensor operated to conserve energy for times when required by passing pedestrian traffic. The solar powered lighting systems combine elegance with maintenance free long life warranty. They expect to achieve huge savings to the cost of ownership compared with incandescent lighting systems.
Operation is typically less than 25p/day. This is considerably less than for an equivalent incandescent light installation. Product options of 8w through to 15w configurations to suit needs:
The system will give you an excellent lighting distribution on any suitable existing columns. A sensor will operate the LED by mean of a proximity sensor. Dragons Breath has experience in developing solar lighting systems. All of our products are specifically designed to meet with rigorous demands. Our service will include in helping to choose a design selected for your solar high performance lighting project.
Components provide optimum performance
Used at column heights from 3 - 4m depending on luminescence
Distance between lights 8 – 20m depending on luminescence
Lithium-ion battery system
Lighting LED light @ 12w – 15w Colour temperatures of up to 3500k
Available with or without PIR & night time sensor
10m circumference proximity sensor
Light stays on for 60 seconds, then goes into half power until light is reactivated
Easy to install, no digging required to lay cables
No issues of management of AC mains power or ground-level electrical components so suitable for locations susceptible to flooding – lights will operate normally even if base of column is standing in floodwater. All valuable components are mounted at the top of the columns – minimizing risk or damage, theft or vandalism
Maintenance free and designed to meet the requirements for open, outdoor installations
Low light pollution, low temperature luminaries (safe to touch during operation)
We will be here to provide any after-sales support or advice that you require.
---
Click here to download data sheet